For this character as he appears in the anime, see Yoshichika Tsurugi.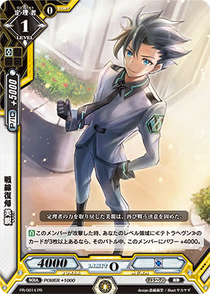 Yoshichika (美親) is a logicalist associated with the colors red and yellow and the Sincerity attribute. His covenanters include Rasetsu, Hibana, and Athena.
As the only logicalist associated with two different colors, Yoshichika can have one of two vastly differing focuses. Red Disfia Yoshichika cards focus on offense, with many abilities that increase power while attacking, decrease power, and stand your own members. They have little of the drop zone focus that Disfia is known for. Yellow Tetra-Heaven Yoshichika cards focus on defense, with a larger focus on increasing your members' power during your opponent's turn than Tamaki. Both red and yellow playstyles can be mixed to an extent, resulting in a deck with both offense and defense.
List of Yoshichika members
Edit
Ad blocker interference detected!
Wikia is a free-to-use site that makes money from advertising. We have a modified experience for viewers using ad blockers

Wikia is not accessible if you've made further modifications. Remove the custom ad blocker rule(s) and the page will load as expected.