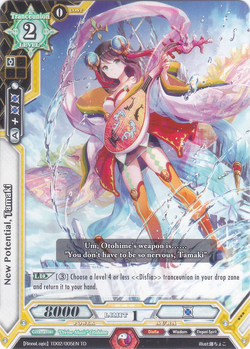 A tranceunion (合理体 Toransuyunion) is a member that represents the fusion of a logicalist and a foreigner. They are denoted by the turquoise pointed octagon surrounding the card's level.
Tranceunions can be mobilized normally from the hand or through the special action of trance; during the main phase, a logicalist member can combine with a foreigner member to mobilize a tranceunion. During trance, you choose one of your logicalists and one of your foreigners on the field, overlap them, and search your hand and deck for a tranceunion member and place it on the field on top of both of them.
The cards under it become the tranceunion's soul (ソウル souru). While attacking, a tranceunion gets power+1000 for each card in its soul; this is indicated by a "(Soul) Power+1000" message in the lower-left of every logicalist and foreigner card. Whenever a tranceunion leaves the field, all the cards in its soul move with it.
Most tranceunions have a Logic Drive ability: an ability marked with the

icon. A tranceunion's Logic Drive ability can only be used if the tranceunion has soul under it, i.e. if it was mobilized through trance. Only one Logic Drive ability out of all of your members can be used per turn.
Note that no matter how a tranceunion is mobilized, you are required to have a card that shares a color or world with the tranceunion in your level zone to mobilize it.
Ad blocker interference detected!
Wikia is a free-to-use site that makes money from advertising. We have a modified experience for viewers using ad blockers

Wikia is not accessible if you've made further modifications. Remove the custom ad blocker rule(s) and the page will load as expected.