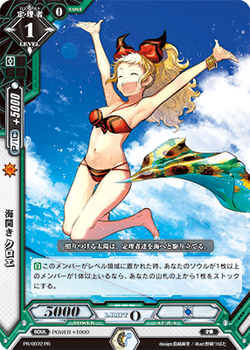 Tokonatsu (常夏 Tokonatsu, lit. everlasting summer) is an attribute associated with member cards from the world of Septpia. Unusually for an attribute, it is not associated with particular characters, nor does it appear in the area of the card normally allotted to displaying attributes. Instead, it is represented by a special icon (

) located in the area where the card name is.
All Tokonatsu members have two worlds associated with them: Septpia, and their original world. As a result, their world is not listed in the attribute area of the card, but they are still treated as those worlds.
Tokonatsu members are the focus of the
EB01 Tokonatsu Luck
set. Their gameplay heavily revolves around
trance
, rewarding the player for having Tokonatsu members in the soul of their tranceunions.
List of Tokonatsu members
Edit
Tokonatsu support cards
Edit
Tokonatsu members are not counted in this section.