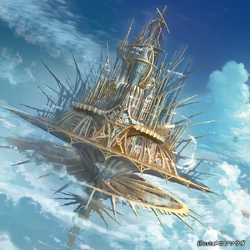 Tetra-Heaven (テトラヘヴン Tetorahevun) is one of the worlds of Luck & Logic. It features prominently in the Luck & Logic anime, as it is the home world of all of the Foreigner partners of the main characters. In the TCG, Tetra-Heaven cards focus on the level zone, with many cards that manipulate or count cards in it, which is flavored as a way of representing "faith" in the gods.
Tetra-Heaven is the world of myths, ruled by the omnipotent god Zeus.[1] Before the events of the anime, there was a war in Tetra-Heaven between the gods and the demon gods, instigated by Lucifer who wanted to rule Tetra-Heaven. It lasted for a hundred years, and recently ended in the gods' favor. Lucifer and his demon gods (among them Quetzalcoatl) were imprisoned in the Land of Fallen Heaven[2], but by chance, they found a Gate Card, allowing them to escape into Septpia. They began attacking Septpia and its inhabitants under Lucifer's direction, ending a period of peace that lasted since the war with Monolium. Athena, Venus, Valkyrie, Artemis, and Nemesis all volunteered to travel to Septpia to assist ALCA in fending off the demon gods.
List of Tetra-Heaven foreigners
Edit
References
Edit
Ad blocker interference detected!
Wikia is a free-to-use site that makes money from advertising. We have a modified experience for viewers using ad blockers

Wikia is not accessible if you've made further modifications. Remove the custom ad blocker rule(s) and the page will load as expected.