For this character as she appears in the anime, see Tamaki Yurine.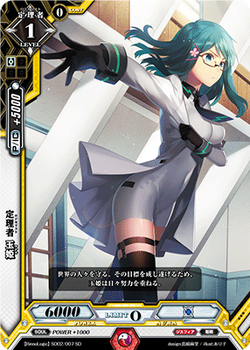 Tamaki (玉姫) is a Logicalist associated with the color yellow and the Wisdom attribute. Her covenanters include Xiaolin, "Divine Music" Otohime, Venus, Cure, Sigma, and Tia.
As the primary yellow-aligned logicalist, Tamaki represents the capabilities of the color yellow, having many abilities that increase the power of all of your members and abilities that increase your members' power during your opponent's turn. Tamaki's exact capabilities vary depending on world, but all tend towards defense.
List of Tamaki members
Edit
Ad blocker interference detected!
Wikia is a free-to-use site that makes money from advertising. We have a modified experience for viewers using ad blockers

Wikia is not accessible if you've made further modifications. Remove the custom ad blocker rule(s) and the page will load as expected.