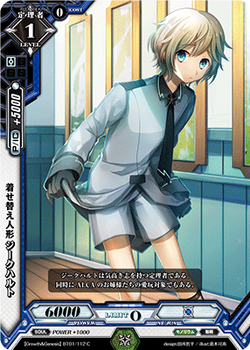 Sieghard (ジークハルト Jīkuharuto) is a Logicalist associated with the color blue and the Wisdom attribute. His covenanters include Lucia and Megaru.
Sieghard cards focus on paradoxes, tactics, and aura battles. Many of their abilities increase your members' aura and allow you to manipulate your own paradoxes and tactics.
TCG Description
Edit
未来への希望にあふれた少年まっすぐな正義感で皆を守るために合体!
With his straightforward sense of justice, a boy filled with hope for the future Trances to protect everyone!
| | |
| --- | --- |
| Gender | Male |
| Age | 11 |
| Height/cm | 138 |
| Weight/kg | 53 |
| Blood type | A |
| Birthday | May 5 |
| Likes | Cheesecake |
| Dislikes | Caterpillars[1] |
Full name Sieghard Krauss (ジークハルト・クラウス Jīkuharuto Kurausu), Sieghard is a boy that comes from a well-to-do family with three older sisters. Although he was spoiled a lot by his family, he was brought up with a good education and a decent sense of ethics, resulting in a kind-hearted young boy. His logicalist abilities were discovered when he was 11 years old, and he was called into ALCA. While there, he met Lucia and visited her often. One day, he encountered Lucia crying alone, as she had lost her wings due to her body adapting to Septpia's logic. After a moment, Sieghard offered to covenant with Lucia to allow her to fly, which she agreed to while crying tears of joy.
List of Sieghard members
Edit
References
Edit