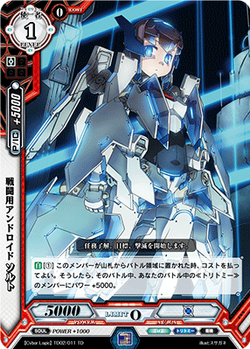 Salt (ソルト Soruto) is a foreigner associated with the color red, the world of Tritomy, and the Battle Armor attribute. Her covenanter is Yukari.
Salt, full name Salt Humanoid 236 (ソルト・ヒューマノイド236 Soruto Hyumanoido 236), is a defense android from Tritomy sent to Septpia to defend it from other foreigners, and to this end she covenanted with Yukari Nanahoshi. In Septpia, she takes on the form of a flesh-and-blood humanoid with purple hair, but she still retains her robotic mannerisms. Although unfamiliar with basic biological sensations such as taste and smell, Salt began to acknowledge the value of things beyond pure data and efficiency.
List of Salt members
Edit
Ad blocker interference detected!
Wikia is a free-to-use site that makes money from advertising. We have a modified experience for viewers using ad blockers

Wikia is not accessible if you've made further modifications. Remove the custom ad blocker rule(s) and the page will load as expected.