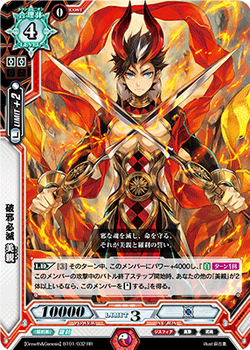 Red (赤 Aka) is one of the colors in the Luck & Logic TCG.
Red cards specialize in offense, including effects that weaken your opponent's members, remove your opponent's members entirely, remove cards in your opponent's stock zone, and letting your members attack multiple times in one turn.
List of Red characters
Edit
Ad blocker interference detected!
Wikia is a free-to-use site that makes money from advertising. We have a modified experience for viewers using ad blockers

Wikia is not accessible if you've made further modifications. Remove the custom ad blocker rule(s) and the page will load as expected.