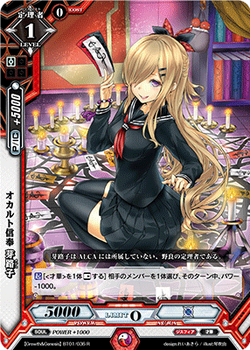 Mejiko (芽路子) is a logicalist associated with the color red and the Splendor attribute. Her covenanters include Huang-Huang, Larva, Thanatos, Kidomaru, Hypnos, and Albert.
Mejiko cards center around sending your members from the field to the drop zone to pay for the costs of their effects. Other Mejiko cards put cards in your opponent's stock zone into their drop zone, limiting their ability to use tactics, Logic Drives, and Luck Drives.
Description
Edit
オカルト大好き女子高生。根暗な自分を合体が変えてくれそう――?
An occult-loving female high school student. Maybe she'll change her gloomy self with a Trance?
Mejiko, full name Mejiko Touma (当麻芽路子), is a girl obsessed with the occult. Unusually for a logicalist, Mejiko never joined ALCA for reasons unknown to her; presumably, ALCA's scouts just overlooked her. Eventually, she unexpectedly encountered Huang-Huang, who Mejiko had mixed feelings about. Huang-Huang, a zombie, was exactly what the occult-loving Mejiko was looking for, but Huang-Huang's cheerful personality stood exactly opposite to that of the gloomy Mejiko's. Although Mejiko resented Huang-Huang, she covenanted with her anyways, and eventually admitted to herself that there was a part of her like Huang-Huang.
List of Mejiko members
Edit