For the demo version of the card, see Logicalist, Tamaki (PRD).
Logicalist, Tamaki
定理者 玉姫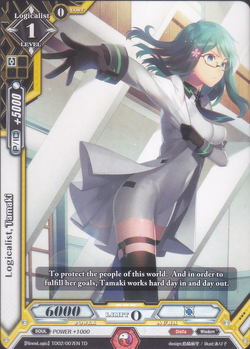 Sets (Japanese)
SD02 Rinne Logic - (SD02/007 - SD - 1/28/2016)
Flavor:
Protect the people of the world. To accomplish that goal, Tamaki stacked effort upon effort every single day.
世界の人々を守る。その目標を成し遂げるため、玉姫は日々努力を重ねる。
Illust: あり子
Sets (English)
TD02 Rinne Logic - (TD02/007EN - TD - 6/24/2016)
Flavor: To protect the people of this world. And in order to fulfill her goals, Tamaki works hard day in and day out.
Illust: あり子
Ad blocker interference detected!
Wikia is a free-to-use site that makes money from advertising. We have a modified experience for viewers using ad blockers

Wikia is not accessible if you've made further modifications. Remove the custom ad blocker rule(s) and the page will load as expected.