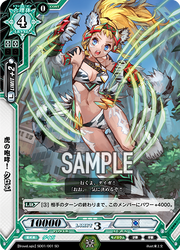 Logic Drive (ロジックドライブ Rojikku Doraibu) is a type of ability unique to tranceunion members, represented in card text by the 

icon.
A member's Logic Drive ability can only be used if it has cards under it, in its soul; that is, if it was mobilized through trance. Once this requirement is fulfilled, the player can use the Logic Drive from one of their members during their main phase by paying its cost, similar to an [ACT] ability. A player can only use one Logic Drive ability per turn, even if they have access to multiple Logic Drive abilities or if they are able to pay the cost for more.
Logic Drive abilities tend to cost ③ from the stock zone. Many of the Logic Drive abilities of level 1 to 3 members add a card to your hand from your deck or drop zone, as a stand-in for a Luck Drive. The Logic Drive abilities of level 4 members often have powerful and specialized effects.
Ad blocker interference detected!
Wikia is a free-to-use site that makes money from advertising. We have a modified experience for viewers using ad blockers

Wikia is not accessible if you've made further modifications. Remove the custom ad blocker rule(s) and the page will load as expected.