For the full version of the card, see Daiga of the Swift Strikes.
Daiga of the Swift Strikes
迅撃の ダイガ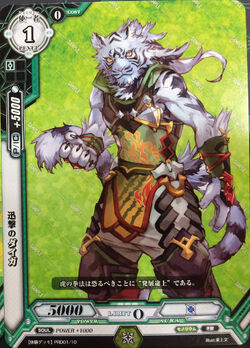 Sets (Japanese)
PRD01 Brave Logic - (PRD01/10 - No Rarity - 1/28/2016)
Flavor:
What is so frightening about the tiger's martial arts is that it is "developing".
虎の拳法は恐るべきことに "発展途上" である。
Illust: 東上文
Ad blocker interference detected!
Wikia is a free-to-use site that makes money from advertising. We have a modified experience for viewers using ad blockers

Wikia is not accessible if you've made further modifications. Remove the custom ad blocker rule(s) and the page will load as expected.