For this character as she appears in the anime, see Ashley Bradbury.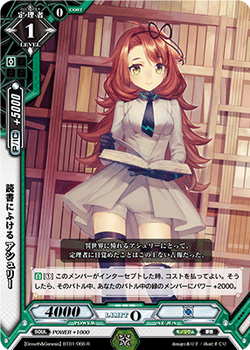 Ashley (アシュリー Ashurī), full name Ashley Bradbury (アシュリー・ブラッドベリ Ashurī Buraddoberi), is a logicalist associated with the color green and the Reverie attribute. Her covenanters include Jade, Enki, Luca, Sugar, Astraea, and Sherry.
Ashley cards specialize in efficient usage of cards in the stock zone. Many of her cards have unusual stock costs, including Logic Drive abilities that don't cost ③ and members that cost 1 to mobilize.
Description
Edit
読書と空想大好きな少女。合体は想像と違ったが明日を夢見て頑張る!
A girl who loves reading and daydreaming. Trance is different than she imagined, but she'll dream of tomorrow and work hard!
List of Ashley members
Edit
Ad blocker interference detected!
Wikia is a free-to-use site that makes money from advertising. We have a modified experience for viewers using ad blockers

Wikia is not accessible if you've made further modifications. Remove the custom ad blocker rule(s) and the page will load as expected.