For this character as she appears in the anime, see Aoi Iroha.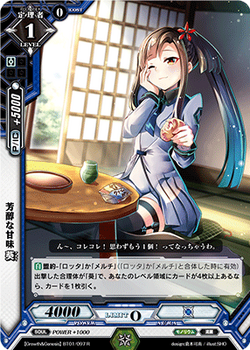 Aoi (葵) is a logicalist associated with the color blue and the Flowing attribute. Her covenanters include Lotta, Melchi, Arve, Pino, Brynhildr, and Thor.
Aoi cards focus on two of the primary abilities of the color blue: increasing your members' limit, and drawing cards. This allows her to win battles simply by playing numerous cards into the battle zone, or by digging through the deck for the right cards to win battles with.
| | |
| --- | --- |
| Gender | Female |
| Age | 18 |
| Height/cm | 163 |
| Weight/kg | 45 |
| Blood type | A |
| Birthday | September 7 |
| Likes | Cream buns |
| Dislikes | Bitter food[1] |
Aoi Iroha (五六八 葵) comes from an old and prominent family of archers. She was raised to be disciplined, dignified, and courteous, and other people's expectations of her are high, something that makes her self-conscious.
One day, she met Lotta in the rain. Lotta had entered the world of Septpia to look for her brother, but lost her special abilities due to Septpia's logic and was lost in the unfamiliar world. One thing led to another, and Lotta became her covenanter.
Another time, Aoi arrived at an ALCA-arranged meeting between her and Melchi, her new covenanter-to-be. Before meeting her, Aoi was initially scared of the large bull woman and her rumored propensity for great destruction while angered, but relaxed when Melchi showed her carefree and relaxed nature.
List of Aoi members
Edit
References
Edit
Ad blocker interference detected!
Wikia is a free-to-use site that makes money from advertising. We have a modified experience for viewers using ad blockers

Wikia is not accessible if you've made further modifications. Remove the custom ad blocker rule(s) and the page will load as expected.